LEPLOOP was designed to be a minimalist electronic music live-performance groove-box, which can be used to create a variety of electronic musical styles. Small in nature but aggressive in sound, the user will be able to create a variety of analog timbres and beats. We are happy to present the third series after ten years of production, with some update: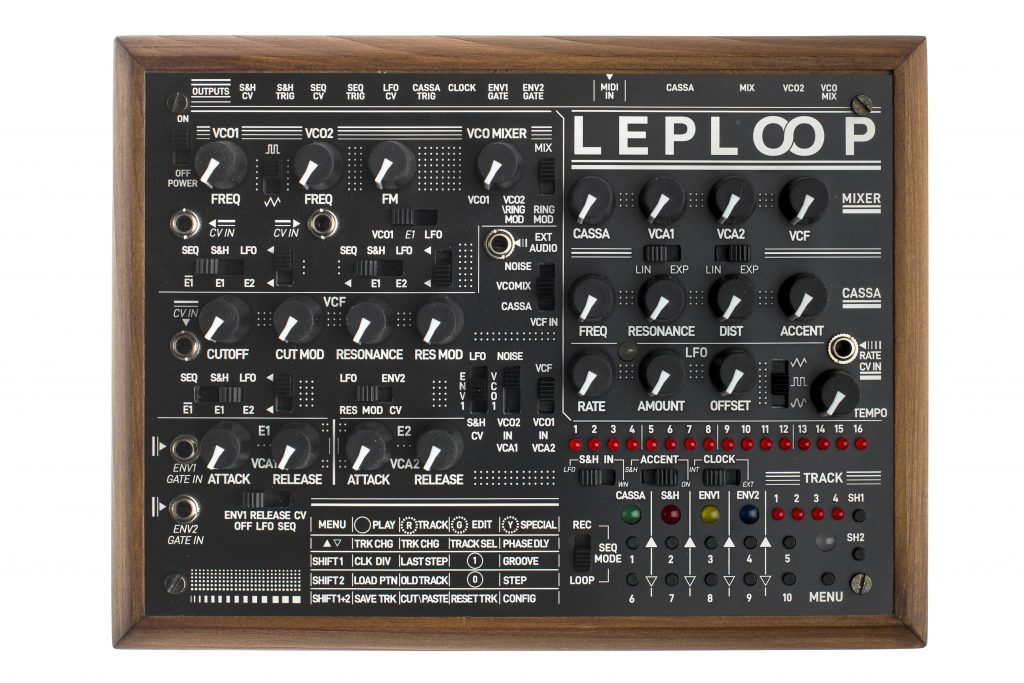 Panel and Box design with Italian design studio IOSAGHINI
General PCB Redesign
New Metal Shaft Potentiometer
New 15v Dc Power Supply
On\Off Power Switch
Envelope 1\2 Gate in\out Connectors
Envelope 1 release CV controllable with LFO or Sequencer
VCA 1\2 Linear \ Exponential Switch
LFO rate CV In
The LEPLOOP can be synched via MIDI to another LEPLOOP for tempo-synched operation, or to another MIDI device or sequencer to receive sequence stop & start instructions.
Leploop Technical info
1 OSCILLATOR (VCO1) TRIANGULAR/SQUARE WAVE
1 OSCILLATOR (VCO2) SAWTOOTH WAVE WITH RING MODULATOR AND FM MODULATION
WHITE NOISE GENERATOR
24 dB/OCT DIODE LOW PASS FILTER
KICK DRUM WITH DISTORTION AND TRIGGER MIXER
2 VCA'S
2 AR ENVELOPE GENERATORS
1 LFO
16 CAPACITORS ANALOG SEQUENCER PWM PROGRAMMABLE
4 TRACK DIGITAL RHYTHM SEQUENCER 64 STEP EACH TRACK
4 CHANNEL AUDIO MIXER
MIDI INPUT (CLOCK AND NOTES)
5 CV OUT: S&H, SEQ, LFO,ENV1,ENV2
3 GATE OUT: S&H, SEQ, CASSA
2 GATE IN : ENV1, ENV2
4 CV IN: VCO1, VCO2, VCF CUTOFF, LFO RATE
1 AUDIO IN (VCF)
4 AUDIO OUT: MIXER, CASSA, VCO2, VCO MIX
1 CLOCK OUTPUT: CLOCK 24, MINI JACK MIDI START\STOP TYPE C TS MONO
EEPROM MEMORY, 16 BANKS, 10 PATTERN EACH, 160 PATTERN TOTAL
15V DC, 500 MA, TIP + CENTRAL ,POWER SUPPLY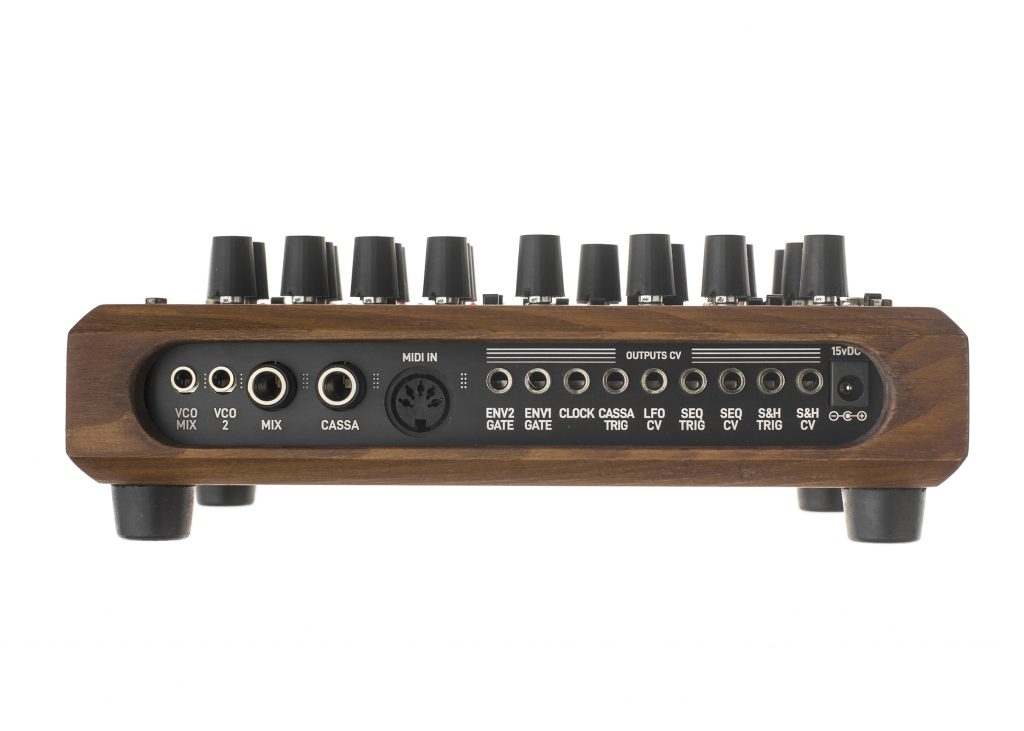 Mixer
The 4 audio signals CASSA, VCA2, VCA2, VCF are mixed and sent to MIX output. The Bass Drum (CASSA) has its own dedicated output,
when connected, the CASSA volume knobs remain active for the MIX output.
Rhythm Sequence
There are four rhythm instruments and one capacitor analog sequencer.
4 small red LEDs for track playing or analog sequencer mode.
16 Led's bar shows rhythm sequencer and other information.
The maximum length for the analog sequencer is 16 notes.
This is a true analog sequencer because notes are stored into 16 capacitors switched by an analog multiplexer.
The Analog Sequencer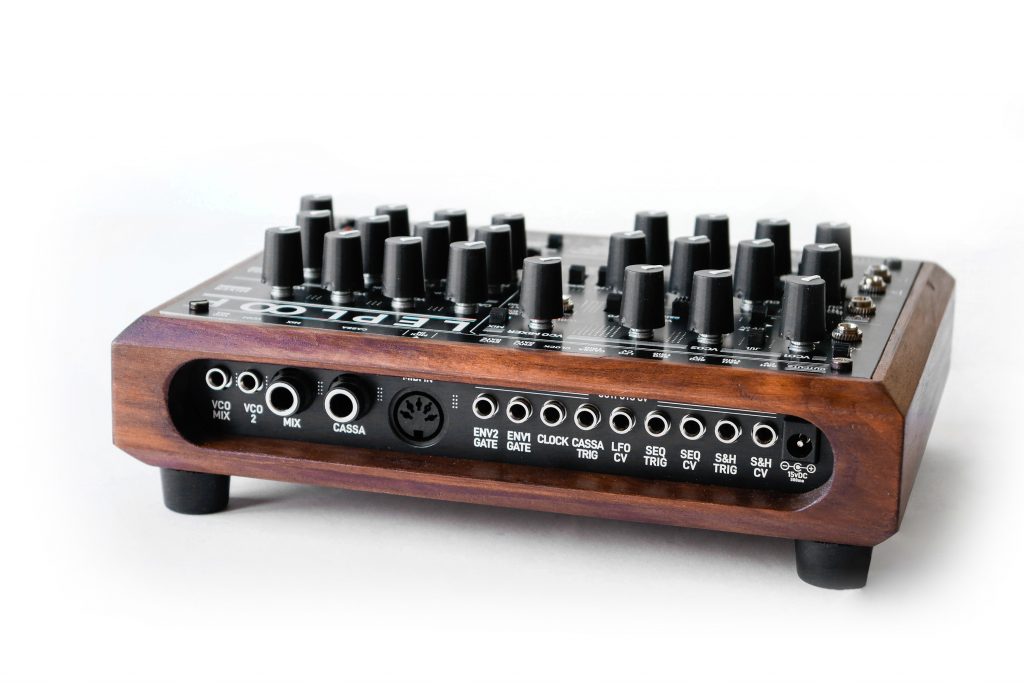 This is a true analog sequencer because notes are stored into 16 capacitors switched by an analog multiplexer.
As the capacitors are subject to discharge, the note pitches will slowly decrease. It's not possible to store the note value in memory.
Thusly, the LEPLOOP has a 16-step analog recorder, much like an analog delay.
Over time, as the analog sequencer cycles through its pattern, the signal will degrade and the sound will change. This is because the capacitor can only store the signal for a limited amount of time.

The analog sequencer is digitally controlled tempo-wise, and will work in conjunction with the digital track sequencer.
Midi Implementation
When you turn on the LEPLOOP, default is midi channel 16 for percussive instruments and channel 1 for midi notes, LEPLOOP use two midi channels: the first accepts notes for percussive instruments (4 colored LEDs), the second is used to play PWM notes.
Leploop reviews
An unexpected review written by Chris Carter, ( Throbbing Gristle, Chris & Cosey ), he performed, recorded and upload on soundcloud short sound example.
I've used a lot of synths over the years, but this one is something different… it's a strange instrument. It's small, much smaller than it appears in photos: it is part synth, part drum machine, part multi-track sequencer. I'm still figuring it all out, but initial impressions are that it's very unpredictable and slightly unstable… but in a good way.

Chris Carter – CCCL
This by Benjamin Weiss, author for instrument and music Blog
Some small-scale manufacturers of analogue hardware initially go for a public-beta-test and leave the manuals out of the box when they send their devices to the distributors in order to see what they make of it. In this case, the distributor found the box quite promising, but decided to leave the acid test to me: "Give it a go and then tell us how it works.

Benjamin Weiss – DE:BUG